Halima Aden, the first hijabi model to crack fashion's big leagues, is at the forefront of a new focus on representation. "If I can encourage girls to stay true to themselves, then I've done a good job," she says. Here, the 21-year-old showcases just how exciting modest dressing can be.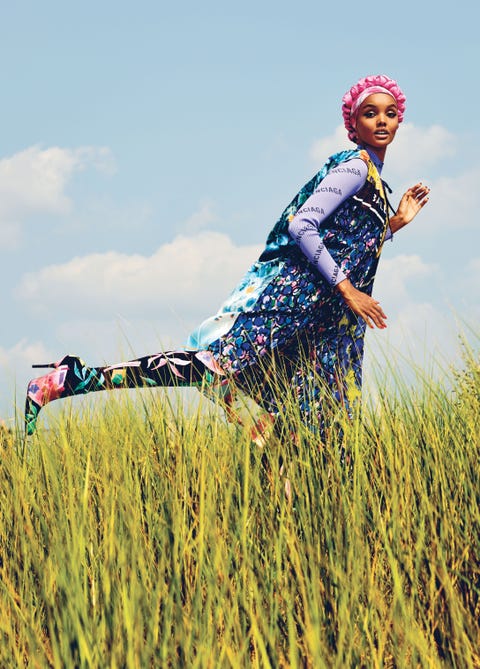 Printed dress, $2,490, polyamide top, $3,400, pantashoes, $1,190, all, Balenciaga. Knotted scarf, Echo. Printed scarf, Hermès.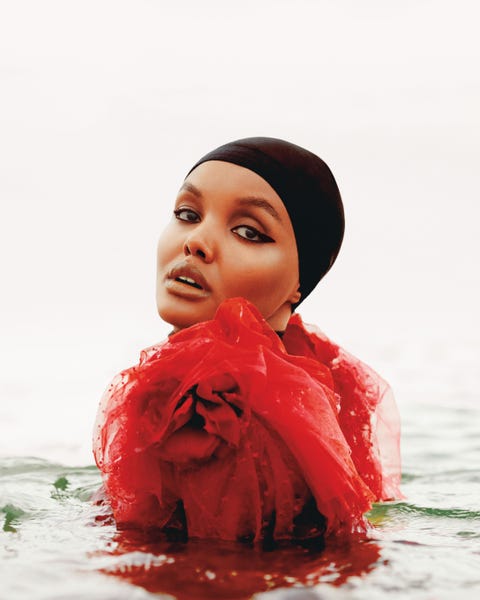 Lace dress, Dolce & Gabbana, $8,095. Cotton bodysuit, Wolford, $250. Head scarf, Haute Hijab, $20. Beauty Tip: Take off dark eyeliner effortlessly with Olay Makeup Remover Wet Cloths ($7).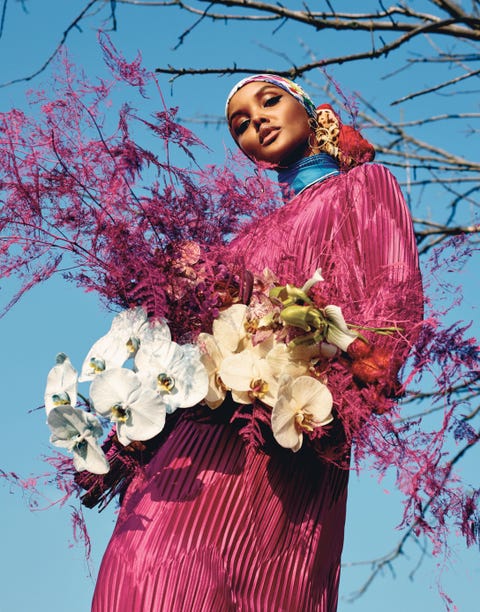 Pleated dress, Givenchy. Printed head scarf, Versace. Gold earrings (worn throughout), Khiry, $502. Neck scarf, Goyard.
A Conversation Between Halima Aden and MuslimGirl Editor-in-Chief Amani Al-Khatahtbeh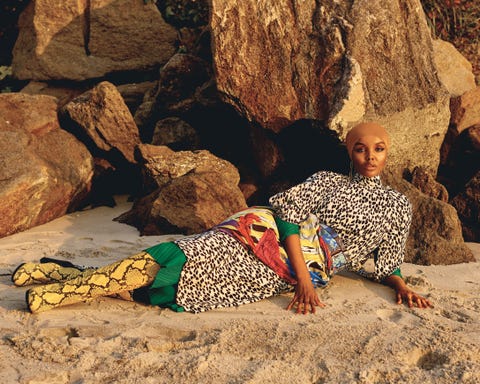 Silk dress, Petar Perov, $1,160. Silk skirt, Versace, $1,280. Pleated jumpsuit (worn underneath), Pleats Please Issey Miyake, $855. Head scarf, Haute Hijab, $20. Snake- print leather boots, Kalda, $600.
Do you ever feel the pressure of being the first hijabi to do this or that?
Halima Aden: Well, girl, when you put it like that…. [Laughs] Yes, it felt like a lot of pressure at certain points. But now I'm finally at a place where I'm seeing my work as a career, versus, "Wow, this kind of fell into my lap—what do I do?" I'm not saying everything's guaranteed, but I'm taking it more seriously. I don't speak for every Muslim girl—I can only speak for myself—but I want to be a good role model. If I can encourage girls to stay true to themselves and not be scared to try something new, then I've done a good job.
There is currently a Muslim [travel] ban in America, with Somalia [being] one of the countries listed. Is your platform more important in light of this?
I want my career to be fashion with activism—the two together. I just got back from Kakuma refugee camp [in Kenya] with UNICEF. That was life-changing, to go back to the camp I was born in. As a Somali, I can say firsthand what it means to be a refugee and also an American. Representation is so important, especially for little girls. Every kid should see themselves represented [in the media]. Girls who are coming of age and who don't see someone that looks like them—it can be really difficult.
Your fame has skyrocketed in parallel with the popularity of modest fashion. Do you think the trend has staying power?
Modest fashion is booming. It's not for one race, ethnicity, or religion. It's a global thing.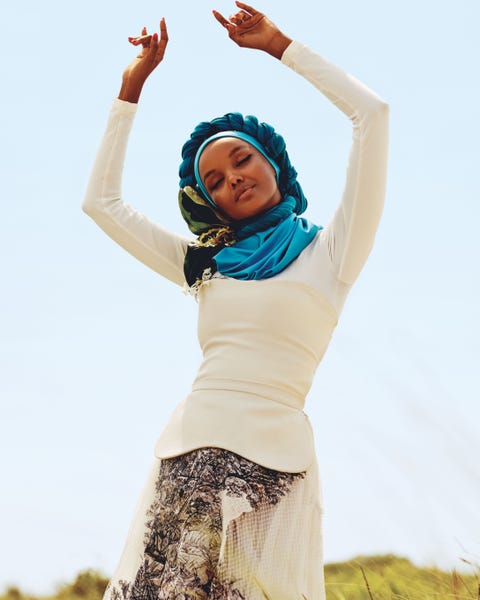 Embroidered-fishnet bustier gown, tulle petticoat, $3,100, both, Dior. Bodysuit, Wolford, $250. Knotted scarf, Echo. Head scarf, Haute Hijab, $20.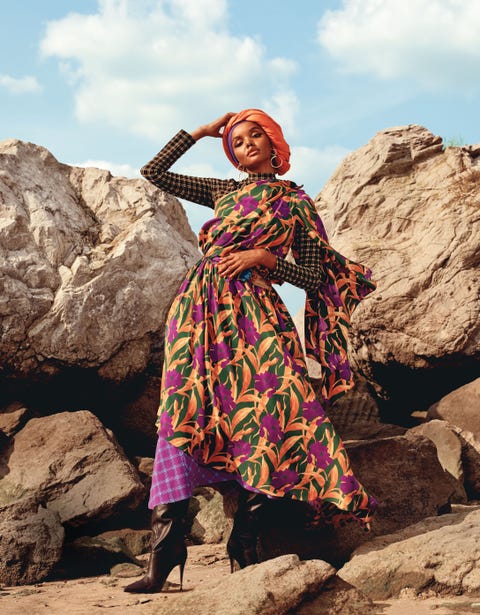 Printed–silk twill dress, Gucci, $7,200. Stretch plaid top, pants, both, Rachel Comey. Twisted head scarf, Goyard. Purple head scarf, Haute Hijab, $20. Faux-leather boots, Guess, $169.